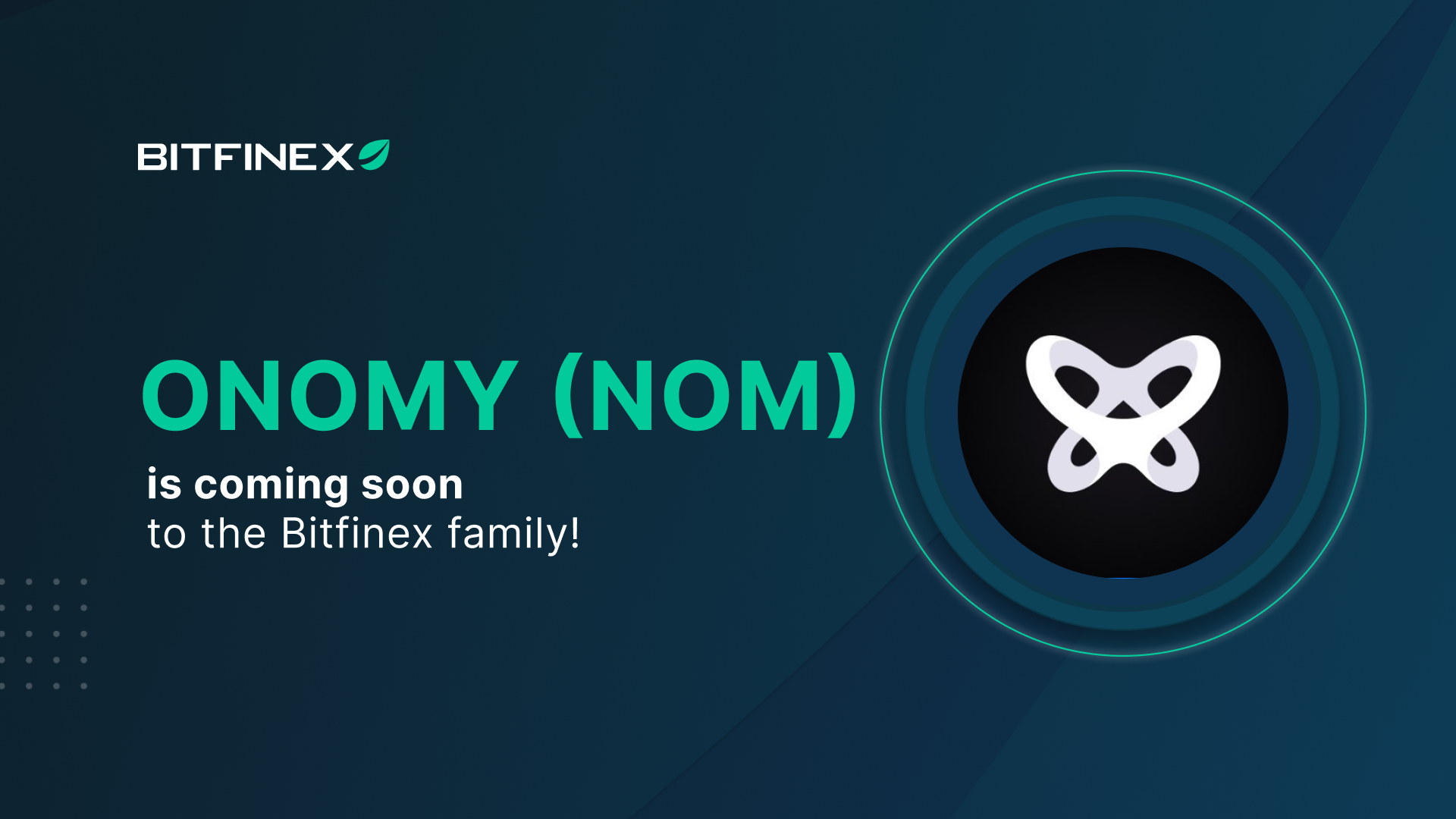 09 Mar

Bitfinex to List Innovative DeFi, Forex Hub Onomy Protocol (NOM)

ROAD TOWN, British Virgin Islands – March 9, 2023 Bitfinex (https://www.bitfinex.com/), a state-of-the-art digital token trading platform, announced today that it will be one of the leading global exchanges to list Onomy Protocol (NOM), an interoperable layer-1 ecosystem built with the aim of converging Forex and decentralised finance (DeFi).

Onomy is a multi-chain Decentralised Autonomous Organisation (DAO) ecosystem, vertically integrated across its infrastructure, which includes Onomy's Layer 1 and Arc Bridge Hub. Applications include a hybrid orderbook and Automated Market Maker (AMM) Decentralised exchange (DEX), a non-custodial multi-chain mobile wallet, and stablecoin issuance protocol. Products are agnostic, to enable integration with Web3 primitives via a decentralised hub.

Bitfinex will start taking deposits of NOM as of 13/03/23 . Trading of NOM on Bitfinex will commence from 15/03/23 . NOM will be available to trade with US Dollars (NOM/USD) and Tether tokens (NOM/USDt).

"We are delighted to welcome Onomy Protocol to our growing digital token ecosystem," said Henry Child, Head of Tokens at Bitfinex . "We are confident that there will be interest among the Bitfinex customer base in Onomy, as the platform aims to carve out a niche converging traditional Forex with DeFi."

The Onomy product suite consists of four key offerings:

Onomy Exchange: A hybrid DEX converging an orderbook with AMM liquidity pools – providing the familiarity of an orderbook model for intuitively trading crypto and Forex pairs, whilst retaining the liquidity and incentives afforded by AMMs. This unique blend empowers users to self-custody their assets without sacrificing the UI/UX provided by centralised exchanges – including support for limit, market, and stop loss orders, alongside cross-chain trading, and advanced charting via TradingView.

Onomy Access: A non-custodial multi-chain mobile wallet app enabling users to seamlessly manage assets, staking, governance, and NFTs from integrated ecosystems. QR code sign-on rids the need for browser extensions.

Onomy Network & Arc Bridge Hub: An application-specific chain built with the Cosmos SDK, powering Onomy's product suite. It features extended interoperability through the Cosmos IBC and Onomy's Arc Bridge Hub that integrates Ethereum, Avalanche, Polygon, Fantom, Moonbeam, Near, and others.

Onomy Reserve: A collateral-backed stablecoin issuance protocol to open on-chain FX markets, deeply integrated within Onomy's suite.

Further information on Onomy can be found at https://onomy.io/.

To obtain access to NOM on Bitfinex, customers can visit https://www.bitfinex.com/.

*All customers of www.bitfinex.com are subject to Bitfinex's terms of service ("TOS"). Please note that U.S. persons (as defined in the TOS), among other prohibited persons (as defined in the TOS), are strictly prohibited from directly or indirectly holding, owning or operating an Account (as defined in the TOS) on www.bitfinex.com.
#
About Bitfinex
Founded in 2012, Bitfinex is a digital token trading platform offering state-of-the-art services for traders and global liquidity providers. In addition to a suite of advanced trading features and charting tools, Bitfinex provides access to peer-to-peer financing, an OTC market and margin trading for a wide selection of digital tokens. Bitfinex's strategy focuses on providing unparalleled support, tools, and innovation for experienced traders and liquidity providers around the world. Visit www.bitfinex.com to learn more.
Media contact for Bitfinex
[email protected]