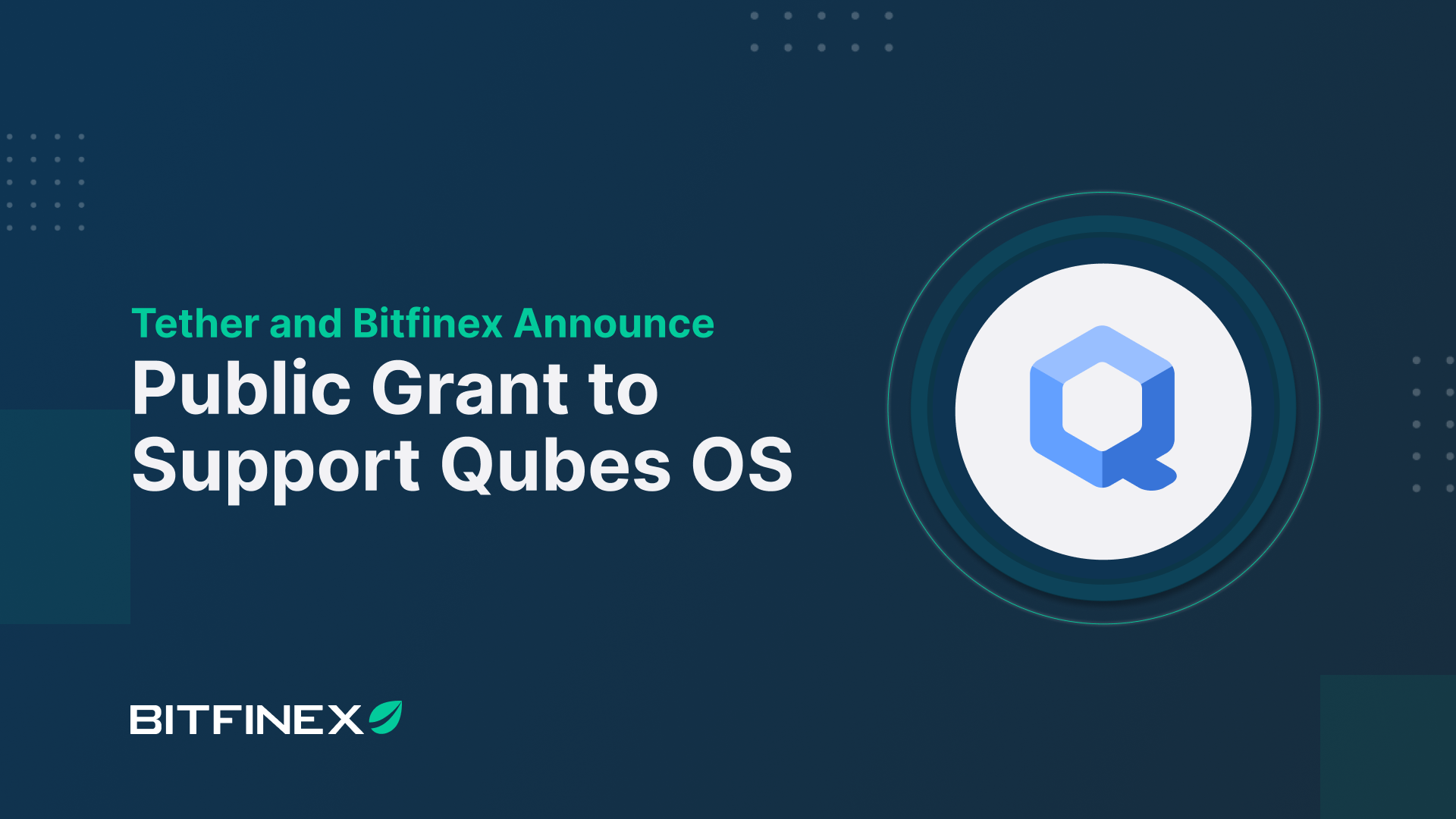 20 Jun
Tether and Bitfinex Announce Public Grant to Support Qubes OS
June 20, 2023 – Tether Operations Limited (Tether), the company operating the blockchain-enabled platform tether.to that powers the first and most widely used stablecoin and Bitfinex, a state-of-the-art digital asset trading platform, have joined forces to provide a public grant to support the open-source development of Qubes OS, an operating system widely acknowledged as the epitome of data security and privacy.
Tether and Bitfinex's grant of 100,000 USD₮ underscores a continued commitment to support projects that drive the development of secure and decentralized technologies. Through their contribution to Qubes OS, both companies strive to foster innovation and empower individuals in safeguarding their digital assets and personal information.
"We recognize the paramount importance of privacy and security in the digital age," said Paolo Ardoino, CTO of Tether and Bitfinex. "Therefore, we are pleased to support the development of Qubes OS, which is a cutting-edge operating system renowned for its iron clad security. This grant represents our dedication to fostering open-source initiatives that drive innovation and empower individuals to take control of their digital lives."
Qubes OS is an open-source project that has garnered significant recognition from renowned bitcoiners and freedom activists for its robust security architecture and innovative approach to protecting user privacy. By leveraging Xen-based virtualization, the OS is able to isolate different tasks and applications within separate virtual machines called 'qubes', and provide a level of security that surpasses traditional operating systems. This approach provides a highly secure environment for conducting sensitive tasks such as financial transactions, accessing sensitive information, or communicating securely.

"We greatly welcome the grant that has been gifted by Tether and Bitfinex. Their support of our open source software development is critical to the continued growth of our operating system, and ensuring it remains the best-in-class secure platform for all users," said the Qubes OS team.
About Tether (USD₮)
Tether is a pioneer in the field of stablecoin technology, driven by an aim to revolutionize the global financial landscape. With a mission to provide accessible, secure, and efficient financial, communication, and energy infrastructure. Tether enables greater financial inclusion, communication resilience, fosters economic growth, and empowers individuals and businesses alike.
As the creator of the largest, most transparent, and liquid stablecoin in the industry, Tether is dedicated to building sustainable and resilient infrastructure for the benefit of underserved communities. Recognizing the transformative potential of free open-source software, Tether consistently nurtures initiatives to drive the development of secure and decentralized technologies. Tether's deep-rooted commitment to open-source software is a core part of its mission to revolutionize the global financial landscape. By leveraging cutting-edge blockchain and peer-to-peer technology, it is committed to bridging the gap between traditional financial systems and the potential of decentralized finance.

About Bitfinex
Founded in 2012, Bitfinex is a digital token trading platform offering state-of-the-art services for traders and global liquidity providers. In addition to a suite of advanced trading features and charting tools, Bitfinex provides access to peer-to-peer financing, an OTC market and margin trading for a wide selection of digital tokens. Bitfinex's strategy focuses on providing unparalleled support, tools, and innovation for experienced traders and liquidity providers around the world. Visit www.bitfinex.com to learn more.
For Press enquiries