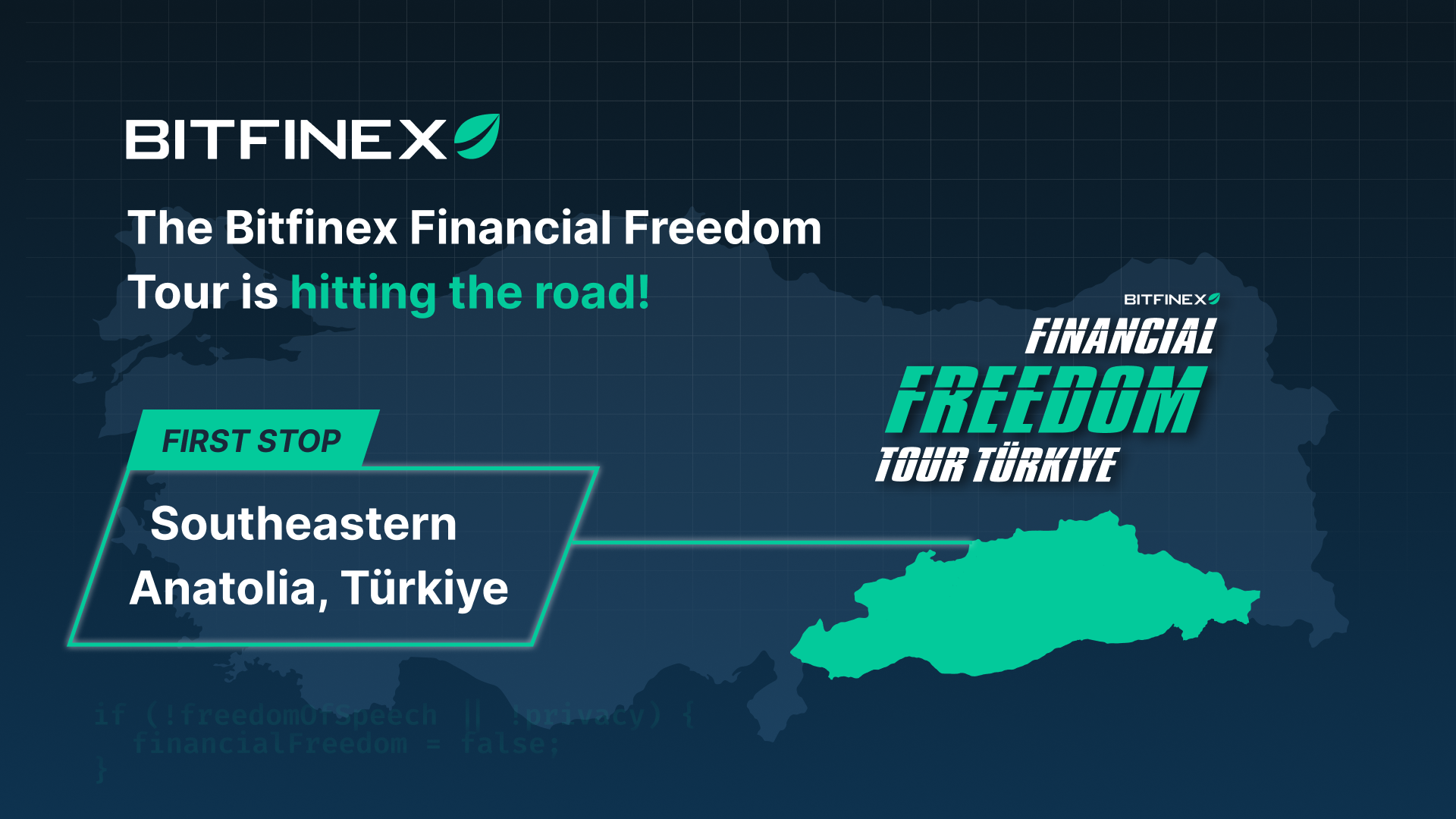 26 Sep
The Bitfinex Financial Freedom Tour is hitting the road: First stop, Southeastern Anatolia, Türkiye
Istanbul, Türkiye, September 26 2023 Bitfinex, a state-of-the-art digital asset trading platform, is launching a 7-month, 21 city tour of Türkiye, focused on Bitcoin and blockchain education, visiting community groups around the country to discuss how Bitcoin can deliver financial freedom.
The Bitfinex Financial Freedom Tour will aim to visit 21 cities across Türkiye, to mark the 21 million Bitcoin that can ever be mined on the Bitcoin blockchain.The tour will start its journey on September 25th from Gaziantep in the Southeastern Anatolia region, before moving onto Şanlıurfa, Mardin, and Diyarbakır, some of the most important and historic cities in the region.
The aim of the tour is to introduce Bitcoin and blockchain to new communities that have never encountered cryptocurrencies, as well as to connect with other Bitcoin evangelists to help spread more knowledge around Bitcoin as a non-inflationary asset.

As one of the original Bitcoin exchanges, Bitfinex has been a long-standing supporter of Bitcoin, and believes the key to wider adoption of Bitcoin lies in education. Formed in 2012, Bitfinex is today a top 10 crypto exchange, and in 2022, published its Freedom Manifesto to articulate its commitment to the peer-to-peer and decentralised technologies that Bitcoin embodies.
On the first leg of the Bitfinex Financial Freedom Tour, the exchange will provide education on Bitcoin's history, investor psychology, the future of cryptocurrencies, and financial freedom. It will also visit cultural hotspots including the famous Gaziantep Archeology Museum and Zeugma Museum. The tour will also take in Göbeklitepe, Karahantepe, Mor Gabriel Monastery, Deyrülzafaran Monastery and the Church of the Virgin Mary.
Paolo Ardoino, CTO of Bitfinex, stresses the vital role of education and research in crypto. "Bitfinex's Financial Freedom Tour in Türkiye is a testament to our commitment to educating investors in one of our most important markets, and where the potential for greater adoption is tremendous."

To follow the tour and find out how to participate, please follow the Bitfinex Türkiye social media accounts.
To learn more about the The Financial Freedom Tour https://www.bitfinex.com/financial-freedom-tour-tr/
*The Bitfinex Türkiye platform is provided by Bitfinex Teknoloji Anonim Şirketi. References to Bitfinex Türkiye in this press release are references to Bitfinex Teknoloji Anonim Şirketi. All deposits, activities, and users are subject at all times to all of the Bitfinex Türkiye Terms of Service in effect on Bitfinex Türkiye. Only Türkiye persons are permitted to use Bitfinex Türkiye or any of its services.
About Bitfinex
Founded in 2012, Bitfinex is a digital token trading platform offering state-of-the-art services for traders and global liquidity providers. In addition to a suite of advanced trading features and charting tools, Bitfinex provides access to peer-to-peer financing, an OTC market and margin trading for a wide selection of digital tokens. Bitfinex's strategy focuses on providing unparalleled support, tools, and innovation for experienced traders and liquidity providers around the world. Visit www.bitfinex.com to learn more.
Media contact for Bitfinex
For official logos and branding please visit