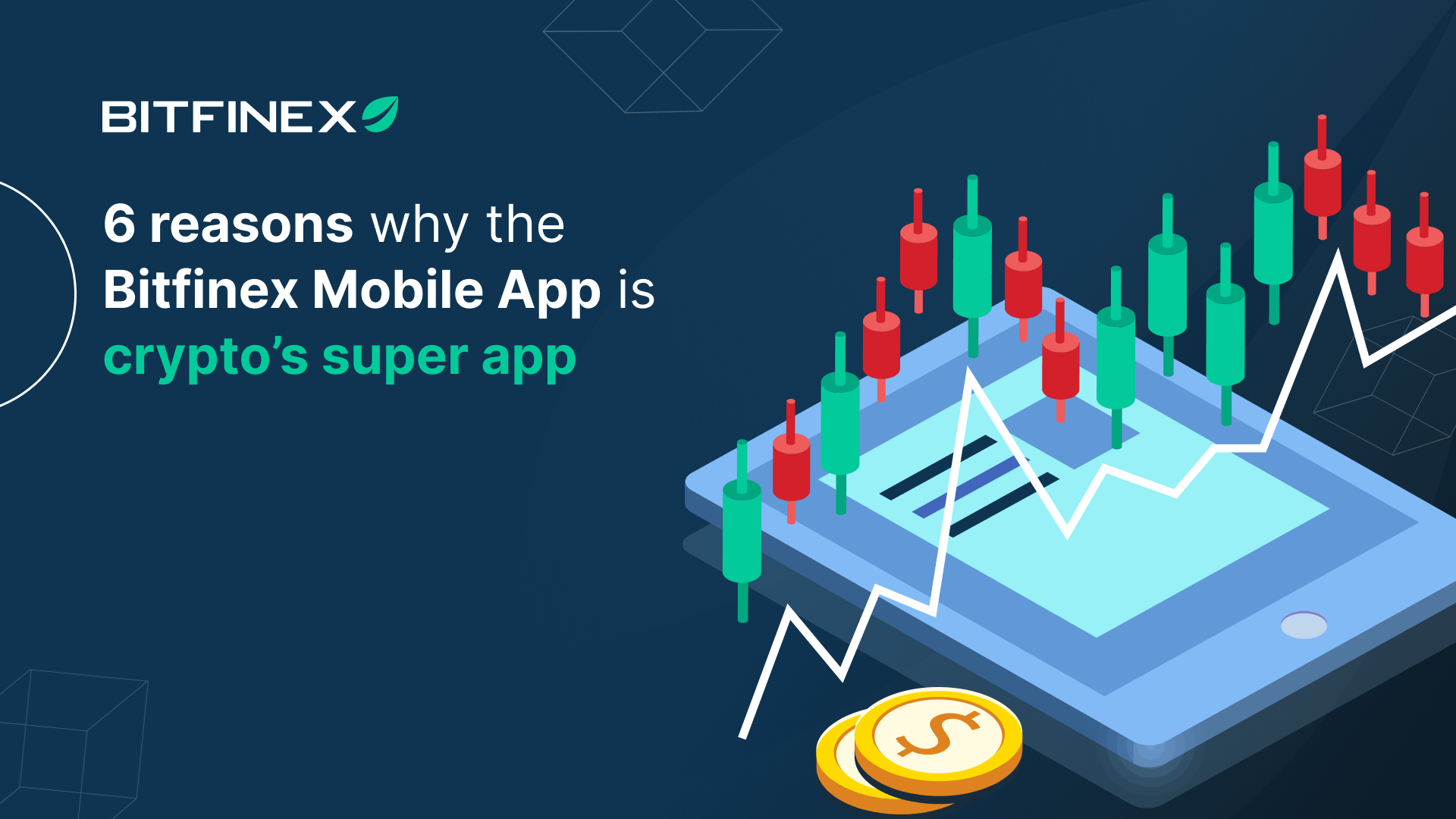 01 Nov

6 Reasons Why Bitfinex Mobile App is Crypto's Super App

We are truly in a mobile-first world. With more than 6.4 billion smartphone users, over 80% of the global population are on mobile today.

The time people spend on mobile devices is ever-increasing as well, with a good proportion of mobile users spending more than 4 hours per day on their mobile devices. No surprise then that mobile now accounts for over 54% of web traffic.

At Bitfinex, we appreciate this growing preference for mobile and this is why we endeavour to provide the wider community with the best mobile app for using and trading crypto.

Here are 6 reasons why Bitfinex is the super app for the crypto community.

Fully functioning charts with a wide array of indicators

Charts are one of the most valuable tools for crypto traders. Charts enable traders to recognise patterns, analyse current and historical prices, and inform their technical analyses. This allows traders to better evaluate price trends of cryptocurrencies and hone sophisticated trading strategies.

As with our web trading platform, we want to facilitate a graphical trading experience with advanced charting functionality for our mobile app users. With this in mind, we ensured that the charts on our mobile app would mirror that of our web platform.

This way, our mobile-first users would not lose out in terms of chart functionalities, and can use the charts in our mobile app to visualise orders, positions and price alerts, or tap to modify order properties.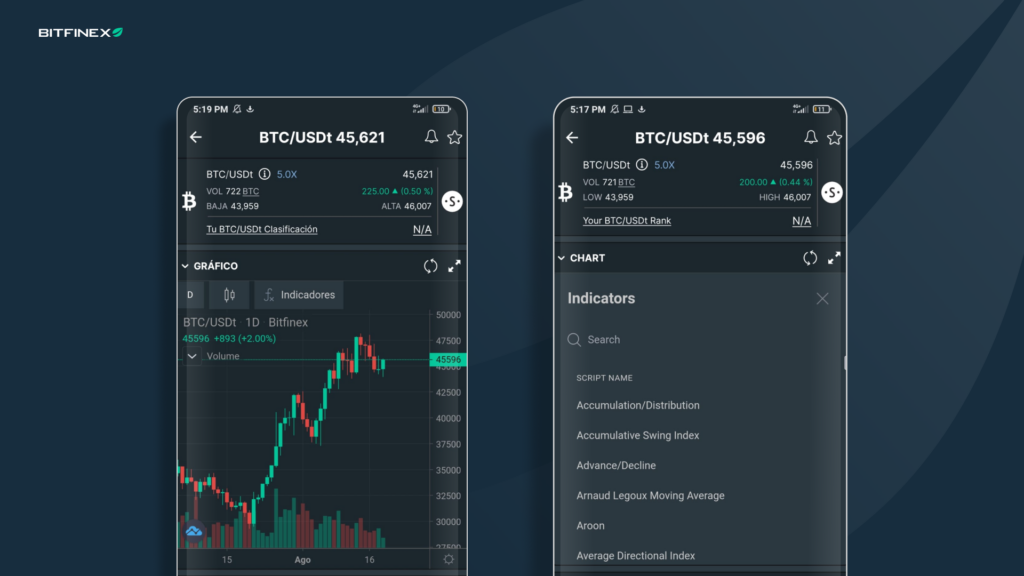 Users can select from a large database of chart indicators in our mobile app, from Accumulation/Distribution to Zig Zag. Whether a bar or Heikin-Ashi chart, users can also choose from 7 types of charts within our mobile app.
If that is not enough, our mobile app users can also access each pair or token's TradingView chart from the Bitfinex app.
Multiple order types for advanced and institutional users
As a world class trading platform, we are home to some of the world's most sophisticated crypto trading features. We developed a suite of advanced features that meet the very highest standards for our professional traders and institutional customers.
These sophisticated and institutional-grade features can also be found in the Bitfinex mobile app, illustrating the power of our super app.
One such feature is the various order types available within the mobile app.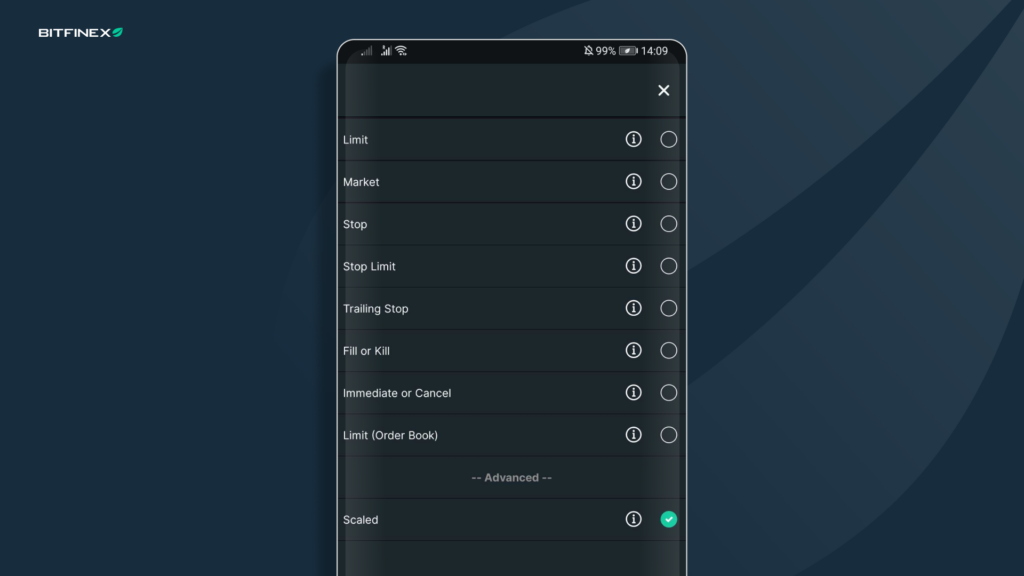 One of the most powerful order types is Scaled Order, an algorithm designed to save time entering orders and allow advanced and institutional traders to spend more time honing their sophisticated trading strategies.
Scaled Order automatically creates multiple limit orders across a price range determined by the trader. It can also provide control over the diversity and distribution of orders within the set price range.
Customisable order book display and last trade display
Advanced traders look beyond price trends to evaluate a crypto's volume and bid-ask spread. This is why order books are a vital tool in an experienced trader's arsenal.
Updated in real-time, order books provide clear indications of a crypto's likely price trend as well as its current market depth. Order books allow traders to gain a better understanding of the current situation around a specific crypto's price movement.
Such is the importance of order books for traders that our mobile app not only contains an order book for each trading pair, but also the option of viewing full order books that typically exists only on web platforms. 
Users can customise the layout of the order book to display either 10 or 20 rows within each trading pair's detail page. Having this real-time picture of a given crypto within Bitfinex's mobile app allows our traders to react quickly to market trends even on the go.
Further, the last trade price can be found in several locations within our mobile app, such as in the tickers list and to the top of each trading pair's detail page, enabling our users to better understand broader trends in the market.
Available in 6 languages… and counting!
Crypto adoption is growing all over the world, reaching parts of Africa, Asia and Latin America. At Bitfinex, we are a firm believer in mass adoption of crypto, and we believe that this starts with making crypto more inclusive and accessible for people around the world.
This is why we remain committed to providing greater accessibility to our mobile app. We endeavour to localise our mobile app to enable more mobile users to obtain access to Bitfinex in their preferred languages.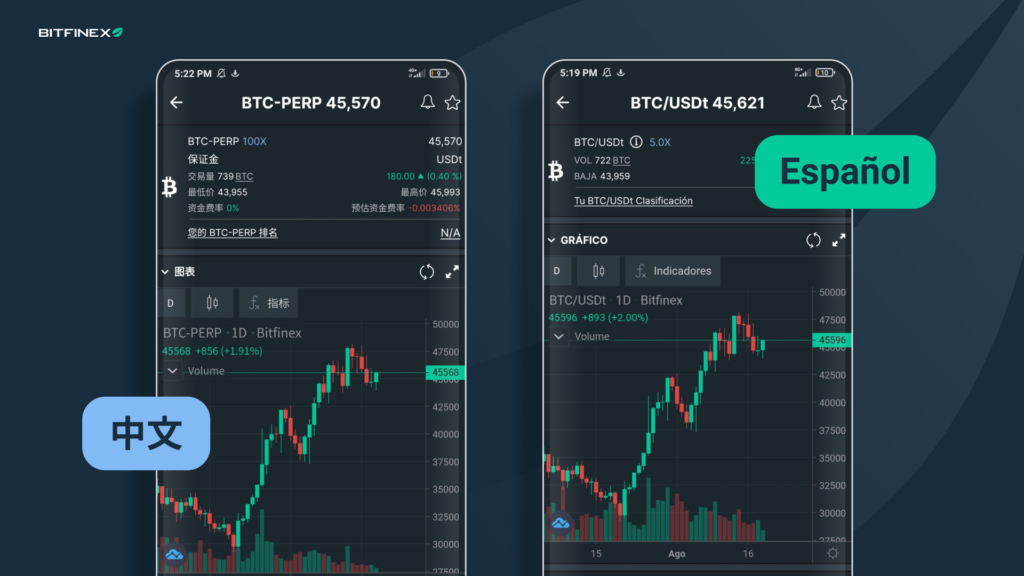 Our mobile app is already available in 6 languages – English, Spanish, Russian, Turkish, as well as Traditional and Simplified Chinese – with many more to come!
Soon, more users can trade and use crypto on our mobile app in their native language.
Keep your thumb on the pulse
Information is crucial to understanding the market and making the right decisions. We want our users to stay up-to-date on the latest industry developments which is why we developed Bitfinex Pulse as a specialist crypto content distribution platform for traders. This is not only available on our web platform, but directly through our mobile app also.
Bitfinex Pulse serves as an intuitive and fun way for our users to read about crypto news and views on the latest crypto market trends and developments. Our users can also post their own thoughts, pictures and portfolio compositions on Bitfinex Pulse, sharing with the wider community on Bitfinex.
With Bitfinex Pulse also available within the mobile app, our mobile users can obtain market-moving information and make trades in a single app, on the go.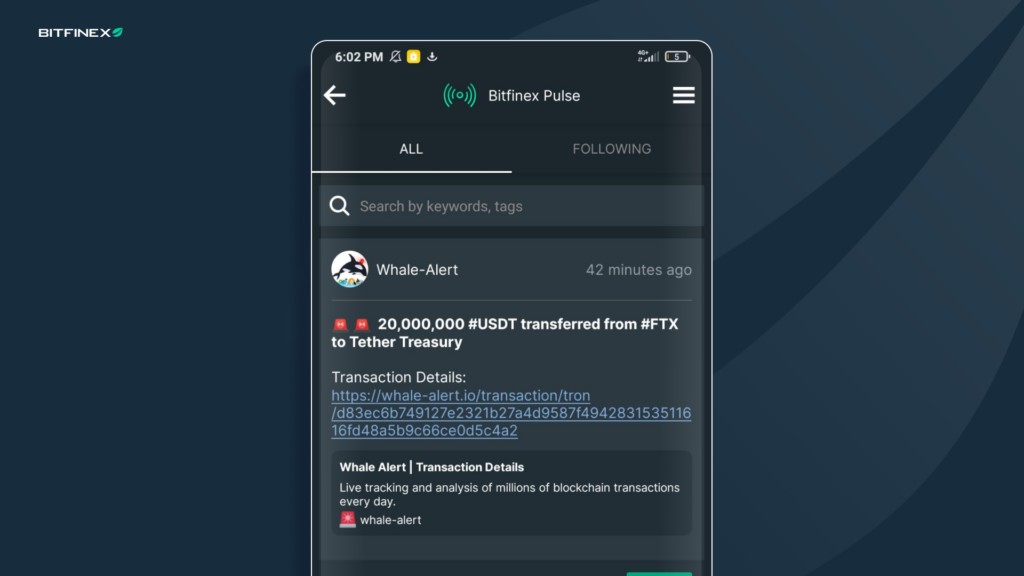 Spend crypto directly from the Bitfinex wallet
The trend of mobile shopping is growing, with more than half of online users using mobile devices to purchase products and almost seven in ten using shopping apps on their mobile devices.
Crypto will play an increasingly bigger role in mobile shopping, and our mobile app users can already use their crypto to buy gift cards, pay bills or top up mobile phones in Bitfinex, thanks to our collaboration with Bitrefill.
By accessing Bitrefill in our mobile app, our users can choose from 1,650 gift vouchers and over 900 mobile service providers in 170 countries. What's more, our mobile app users can opt to pay for these purchases directly from their Bitfinex exchange wallet, making it even easier to both use and trade crypto in a single place.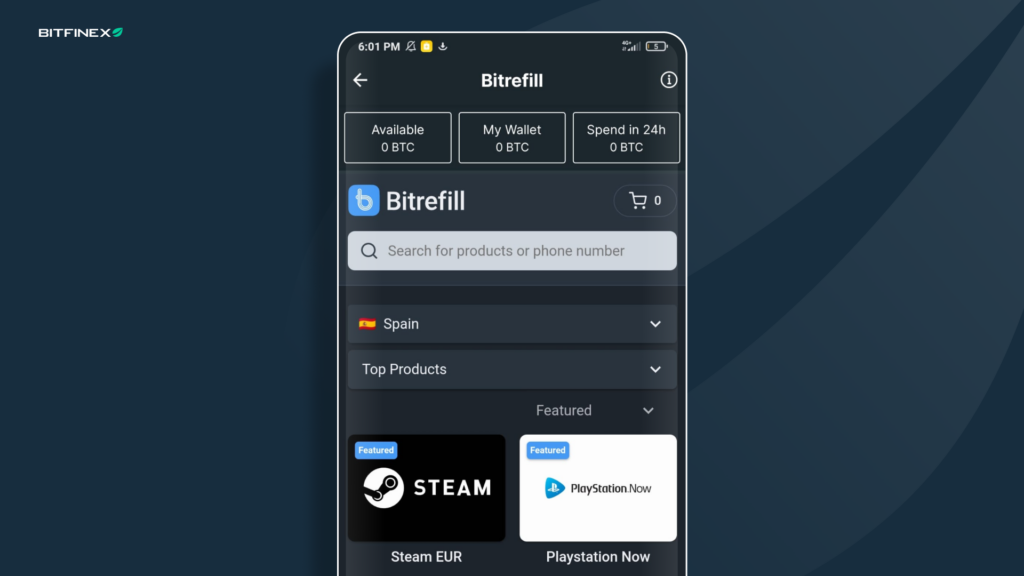 With six in ten shoppers indicating that the ability to make purchases on mobile is key in choosing brands or retailers to buy from, it is no wonder that there are so many options in Bitrefill for users to use their crypto within the Bitfinex mobile app.
With fully functional charts, a wide array of indicators, multiple order types, customisable order books, an in-app news platform, and an online shopping catalog – all available in multiple languages – the Bitfinex mobile app gives you a complete crypto experience, and is well and truly crypto's super app.