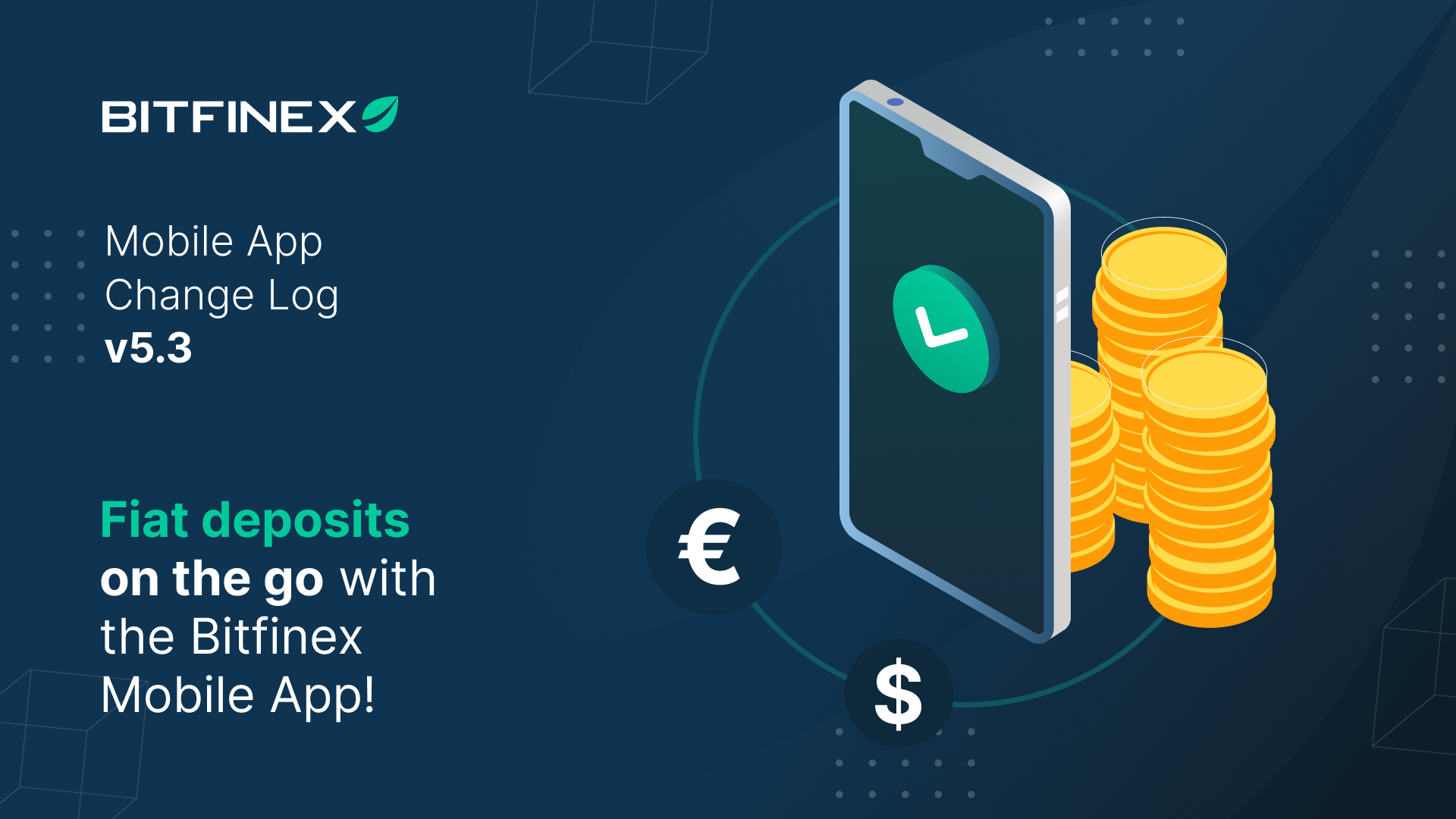 24 Mar

Mobile App Change Log 5.3.0

Recent updates and optimizations to the Bitfinex mobile app

We're pleased to present Version 5.3.0 of the Bitfinex mobile app.

The latest update to the Bitfinex mobile app includes support of bank wire deposits.

You can also download the latest version of the Bitfinex mobile app from the Android Application Package (APK).

Please share your experience by leaving a review in the app stores too! The below changes have been suggested to us by our active user base. Feedback from our customers is incredibly valuable to us.
---
Features
Support bank wire deposits
Support redemption of coupons generated via coupon partner
Show yearly estimate APY (Annual Percentage Yield) on Staking page
Support small amount payments without need to authenticate via 2FA (this needs to be enabled in configurations)
Improvements
Smaller app size, less memory usage and faster live updates
Quicker app startup time and shorter response time
Updated the default trading chart appearance in Lite Mode
Updated notice to "You can still login using the same email and password just created." when the user aborts in the middle of the signup process
Delisted ORS (ORS Group) and QSH (QASH) tokens
Removed Margin and Funding Wallets for LN-BTC, LBTC, PBTC in Wallet Conversions
Redirect users to the Deposit page when shopping in Bitrefill without sufficient funds
Removed Private Message and Group Invite options on the Pulse profile page
Allows users to​ open the Pulse post preview through in-app browser
Web links supported in Contact Support > Live Chat
Updated translations for Russian, Spanish, Turkish, as well as traditional and simplified Chinese
Bug Fixes
Fixed issue of sign up failures for some countries
Fixed issue of login error messages
Fixed issue of USD amount estimations on Staking page
Fixed issue of equivalent USD calculation for JPY, GBP, EUR in funding earnings
Fixed issue of Configure Small Balance Threshold option in Wallets showing the wrong result
Fixed issue of the grid layout icons size on Account settings
Fixed issue of the Log Out option in Enter PIN Code screen not showing the logout modal
To share any further feedback, please complete the Bitfinex mobile user app survey or join the Bitfinex Telegram channel.