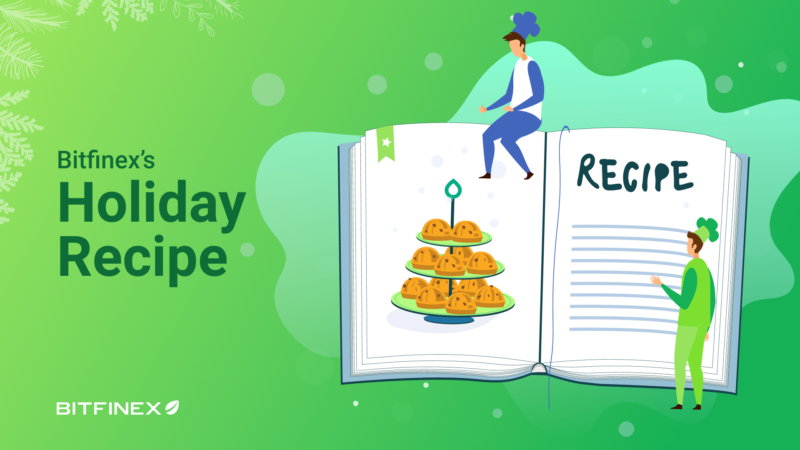 23 Dec

Bitfinex's perfect trader holiday recipe

It's that time of the year again! So, in the spirit of festivity, we want to share with you our version of the holiday recipe, which hopefully, is as good as your grandma's recipes.

Bitfinex's Trader Recipe

Power ingredients:
Fully functioning computer(s) – other gadgets work as well, such as a mobile phone or a tablet.
[Fast] internet connection – it's the one thing that makes everything possible in the first place.
A Bitfinex account – if you don't have one yet, don't worry, you can create one here in no time.
Instructions:
1. Access your Bitfinex account
As part of Bitfinex user security measures, you must activate the Two-Factor Authentication (2FA) for your account. Learn about Bitfinex Security Features here.
2. Verify your account
You don't have to be fully verified or even get verified at all to deposit, trade, and withdraw various cryptocurrencies on Bitfinex. However, to get the most of the Bitfinex platform, you need to verify your account. There are several levels of verification that you can choose according to your needs. Learn more about them here.
3. Get familiar with the Bitfinex platform
It's always a good idea to familiarise yourself not only with the trading interface but also with the entire Bitfinex platform. This way, you'd know where to look for whenever you need specific information in your trading activities.
4. Learn how to trade or test new strategies
We've made it easier for you to learn how to trade or explore new trading strategies with the Bitfinex Paper Trading feature. Learn how to create a paper trading account on Bitfinex here and start learning new skills this holiday season.
5. Seek help at the right place
We have a Knowledge Base that's always updated. You can query for any topics related to the Bitfinex platform, such as our features, services and terms on Bitfinex Help Center.
At the same time, our Customer Support team is always ready 24/7 to help you with your issues or inquiries. Just leave a message, and we'll be in touch with you.
6. Access while on the go
The holidays are the perfect time to get off the computer and enjoy quality time with family and friends. Bitfinex is available on mobile, both on Android and iOS, so you can still access your Bitfinex account whenever you want while on the go. You can download Bitfinex on mobile here.
We hope you enjoy our recipe! Happy holiday!