15 Jun

The Bitfinex Hackathon; London, July 20-22, 2018

We are pleased to announce the 'Bitfinex Hackathon' - a global hackathon series intended to foster innovation and development within the decentralised digital asset space.

The first location is London, United Kingdom (July 20–22nd). We kindly invite all developers and trading enthusiasts to join us and we hope to see you there.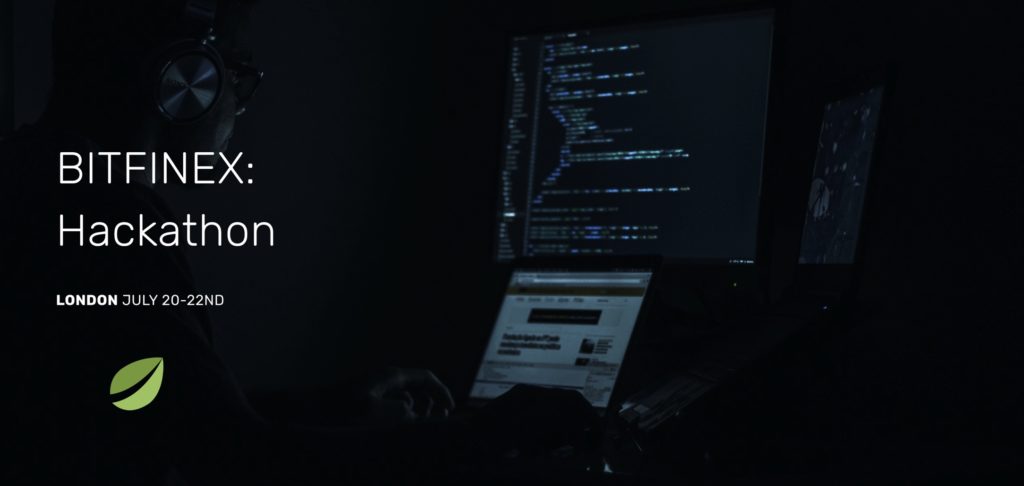 Featuring workshops, presentations and seminars by key blockchain developers and industry thought leaders, the Bitfinex Hackathon is an event designed around collaboration, innovation and open-source development.
Overview
The first Bitfinex Hackathon will take place July 20–22nd in London, United Kingdom. Participation in the event is entirely free, with food, drinks and essential development resources covered by Bitfinex.
Anyone with a passion for decentralised and open-source development is free to attend. Spots are limited and applications are judged based on interest in the field and demonstrated ability to contribute or teach something unique.
We thrive on creativity and building without constraints. There are no requirements in place for your hack and you are free to prepare as you wish; however, the Bitfinex API documentation is a good place to start.
To secure your spot, visit bitfinex.com/hackathon. Please apply before July 15th, 8AM BST.
Prizes
The top developers across a spectrum of categories will secure monetary prizes and long-lasting development opportunities at unique cryptocurrency projects.
The prizes are split up as outlined below:
1st Prize: 7,500 USD
2nd Prize: 3,000 USD
3rd Prize: 1,500 USD
In addition to the above mentioned prizes, two prizes have been offered specific to development efforts pertaining to Ethereum and EOS.
Ethereum Prize: 5,000 USD for best integration of the Ethfinex self-custodial trading API (sponsored by Ethfinex).
EOS Prize: 5,000 USD for the most innovative use of EOS decentralised exchange contracts (sponsored by EOSfinex).
The top projects will, in addition to securing a prize, be presented with a number of development opportunities, including the provision of development resources, mentoring, sponsorships and more.
Secure Your Spot
Please submit any questions or concerns via the submission form on Bitfinex.com/hackathon. Additionally, feel free to reach out to us on Twitter, Telegram or Reddit and we will get back to you as soon as possible. Sign up to secure your spot today.