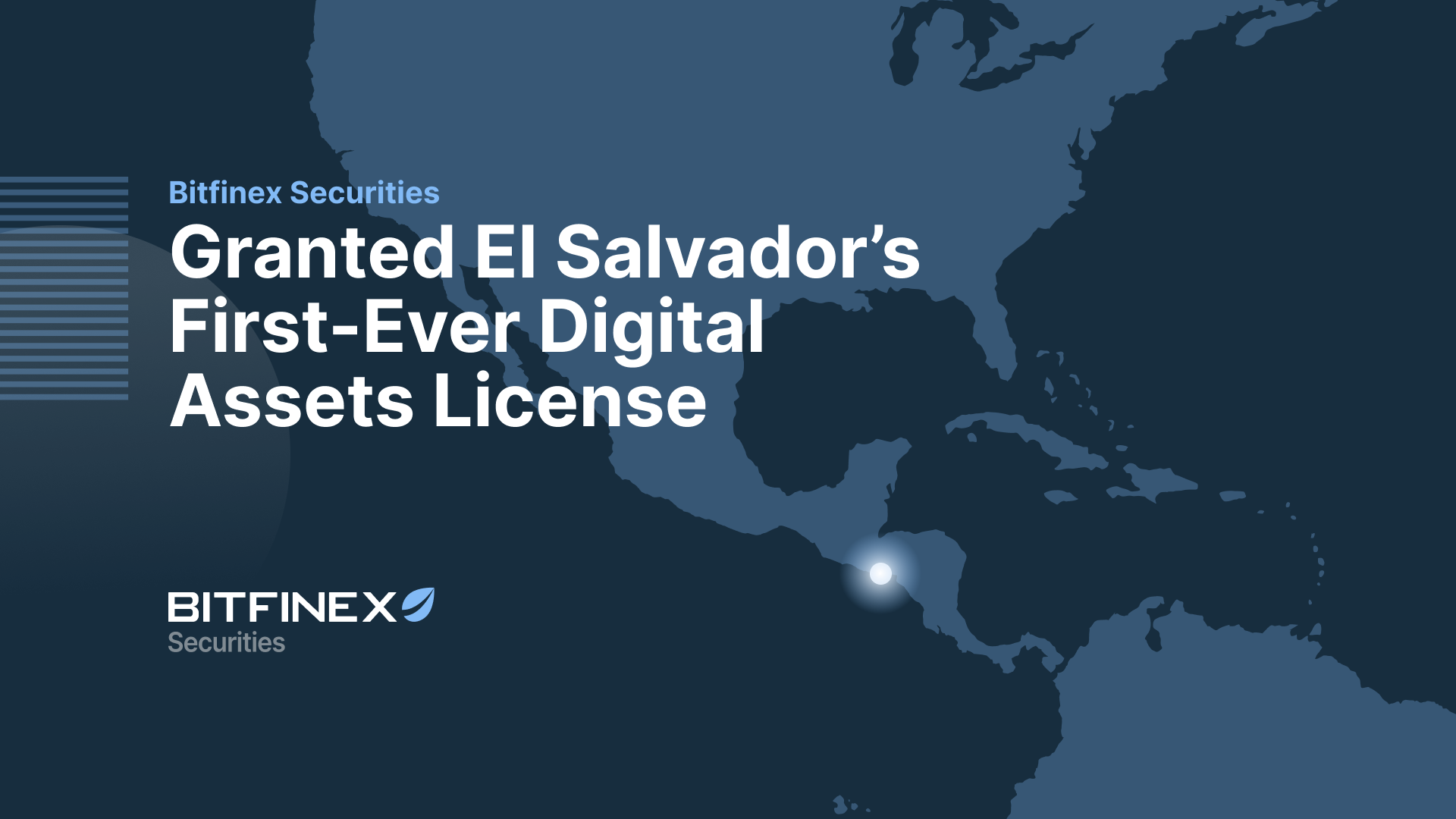 11 Apr

Bitfinex Securities Receives First Digital Asset License in El Salvador

After recently passing its Digital Assets Securities Law and regulatory framework earlier this year, El Salvador has given its first-ever Digital Asset licence to Bitfinex Securities. This milestone marks a historic first for the Central American nation's radical and innovative Bitcoin adoption strategy.
Financial Freedom is Alive and Well in El Salvador
Just six months after releasing our Freedom Manifesto at El Salvador's Adopting Bitcoin conference last November, Bitfinex Securities has made history as the first fully regulated Digital Assets exchange to receive a Digital Asset licence in El Salvador. The licence is the first ever which is issued under El Salvador's newly implemented Digital Asset Securities Law (DASL), which was passed earlier this year, in January.  
This is an incredible achievement, and a massive step forward for our plan to offer financial freedom and inclusion to the world, laid out in our Freedom Manifesto.  By leveraging the power of open networks, cryptocurrency, and decentralised P2P technologies, we're building a free and open alternative financial system, where participants fully control their own censorship-resistant digital assets and money.
El Salvador's Digital Asset licence is a significant step forward for tokenised securities as an asset class. The licence opens the door wide open for entities like small companies and governments to raise capital in a regulated market with clear rules set forth under the DASL. In addition to raising capital through token issuance, it lays out rules for new kinds of tokenised securities like tokenized shares, yield-bearing assets, and other investment products.
Why Tokenised Securities are a Big Deal
Tokenised securities are revolutionary as they offer the technological leap forward provided by cryptocurrencies like Bitcoin and apply it to traditional regulated securities offerings. This gives tokenised securities several disruptive advantages that are not possible in traditional securities markets.
Tokenised securities possess qualities like instant trade settlement, cryptographically verified transactions, the ability to self-custody and trade securities P2P, as well as markets which trade 24 hours a day. These are advantages that legacy securities markets simply can't match. 
In 2022, the global securities market was valued at $119.75 billion. By tokenising securities, it brings the global securities market into the financial revolution taking place through digital assets and cryptocurrencies. The global crypto market is currently valued at $1.24 trillion, and was as large as $3 trillion at the peak of the last bull market, and is only expected to continue growing. 
This offers an extremely exciting opportunity for issuers and crypto-native investors looking for a crypto-like trading experience with the speed, cost efficiencies, and ease of issuance of digital assets, that does not exist in traditional securities markets. 
El Salvador's status as the global pioneer in Bitcoin adoption as well as its newly created Bitcoin office, Bitcoin Embassies, and DASL, makes it the first credible venue for a new and disruptive global tokenised security market.
Bitfinex Securities being chosen as the first recipient of a Salvadoran Digital Asset licence is truly historic, and we're honoured to provide a world class securities token platform to the people of El Salvador and the world.
What it Means For Bitfinex Securities
Bitfinex Securities, as a leader in digital asset innovation, will now be able to give small and medium-sized companies, corporations, and retail investors the opportunity to participate in global markets. The Digital Asset licence paves the way forward for us to execute upon goals and objectives laid out in our Freedom Manifesto, to bring financial freedom and inclusion to the citizens of the world. 
Bitfinex Securities will provide services which will allow access to new sources of funding, while widening investor access to a host of innovative financial products, including blockchain-based equities and bonds. Simply put, we'll offer an array of groundbreaking new tools which provide new opportunities to underserved companies, entities, and investors.
We remain committed to pioneering a more equitable and resilient alternative financial system, built on Bitcoin, digital assets, decentralisation, and P2P technologies. We continue to be the world's leading technology company focused on driving Bitcoin-empowered financial inclusion worldwide.
We also remain committed to El Salvador and President Bukele's vision for Bitcoin adoption. We will continue to stand behind El Salvador's financial revolution by assisting educational efforts like Mi Primer Bitcoin, Layer 2 technologies like Lightning Network and RGB and as a technology provider for El Salvador's much anticipated Volcano token.