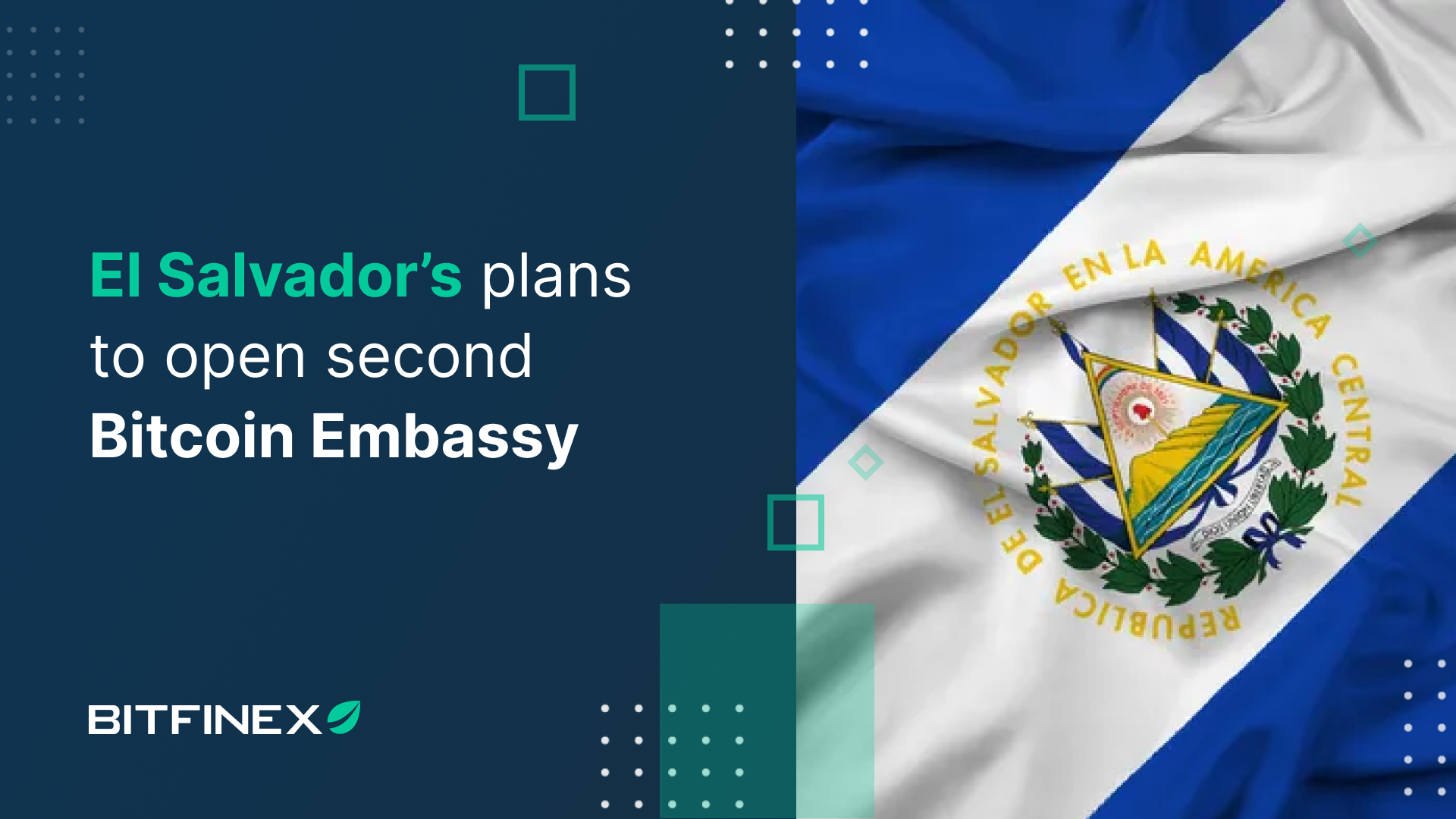 24 Feb

El Salvador plans to open second Bitcoin Embassy in Texas

El Salvador's Ambassador to the United States, Milena Mayorga announced the nation's second Bitcoin Embassy, planned for the state of Texas. El Salvador leads the world in Bitcoin adoption, and opened the first Bitcoin Embassy in Lugano, Switzerland in October of last year.
El Salvador's historic commitment to Bitcoin remains firm
After opening its first Bitcoin embassy in Lugano, Switzerland, Milena Mayorga, the ambassador for the Central American nation of El Salvador to the United States, met last week with Texas Deputy Secretary of State Joe Esparza, to discuss the creation of its second Bitcoin Embassy, in Texas.
What do Lugano, Texas and El Salvador have in common? A deep interest in the opportunities offered by Bitcoin to economic growth and financial freedom.
El Salvador in particular, has made history with a string of highly publicised announcements surrounding the recent passing of its Bitcoin legal tender law in 2021 and has continued to push Bitcoin initiatives both inside the country and out. As if to burnish its status as Bitcoin country, it opened a state run Bitcoin Office last November, as an official arm of the Salvadoran government. Its role is to facilitate Bitcoin adoption, plan strategy and policy, and assist Bitcoin businesses who wish to come to El Salvador to take advantage of the Bitcoin law.
The country also recently passed a new Digital Securities law, which provides a regulatory framework for crypto token issuance, and lays out a path for digital securities offerings.
Most famously, the digital securities law paves the way for El Salvador's planned Volcano token, a tokenised security bond offering which harnesses the nation's geothermal energy to mine Bitcoin.
The Volcano token has been mooted to raise a billion dollars to pay down the nation's sovereign debt and finance the creation of the planned Bitcoin City, a special economic zone which will offer tax breaks and incentives for Bitcoin entrepreneurs planning to establish a presence in El Salvador.
El Salvador made headlines again, last year, by announcing the opening of its first Bitcoin Embassy in the Swiss city of Lugano. Lugano representatives signed a Memorandum of Understanding with the Central American nation, and agreed to cooperate on education and research surrounding Bitcoin adoption.
Now, in the past week, Ambassador Mayorga has announced the opening of a second Bitcoin office, this time in the state of Texas, which has been a leading proponent for Bitcoin and crypto friendly regulation in the US, and is the centre of the US Bitcoin mining industry.
What is a Bitcoin Embassy, exactly?
El Salvador's two Bitcoin Embassies are part of its template for adoption that it's been working to create, so other places which wish to adopt Bitcoin can do so seamlessly. This template is part of El Salvador President Nayib Bukele's greater vision for El Salvador in its role as a leader for Bitcoin adoption on the global stage, and would act as a blueprint to allow other nations or jurisdictions to follow in El Salvador's footsteps.
The Bitcoin Embassies themselves can be seen as the first ever Bitcoin Chambers of commerce, and El Salvador's strategic placing of these embassies demonstrates President Bukele's wish to create forward thinking policy, friendly regulations, and establish trade relations with key financial centres that have an interest in Bitcoin adoption.
The state of Texas and El Salvador have extensive trade between themselves totalling more than one and a quarter billion dollars in 2022. Texas also is the focal point for the United States' Bitcoin mining industry, which saw a huge influx of businesses looking to take advantage of the low energy costs in Texas and set up shop after China's Bitcoin mining ban in 2021.
Previously, China led the global Bitcoin mining industry with ⅔ of global hash power formerly being located in the Asian nation, until the ban. Since China's ban went into effect, many miners set up shop in Texas, and other places around the US with cheap renewable energy or waste energy which can be salvaged and repurposed for mining. The US now leads the world in Bitcoin mining.
El Salvador is planning on investing in mining infrastructure, both for the Volcano token, as well as inviting mining companies to open mining operations in the nation, so its announcement of its second Bitcoin Embassy in Texas makes sense. It remains to be seen if US mining companies will expand their operations to El Salvador, but the Bitcoin Embassy in Texas may motivate them in the very near future.
In Lugano, the opening of El Salvador's first Bitcoin Embassy coincided with the Tether sponsored "Plan B" conference which took place following the decision by the Lugano local government to adopt Bitcoin, USDt, and Lugano's own LGVA token as "DeFacto Legal Tender". Any of the three cryptocurrencies are now accepted at a variety of businesses throughout the city, and can be used for payment for taxes, fees, and fines issued by the city.
El Salvador's Bitcoin Embassy has also appointed a Salvadoran official who will work closely with Lugano representatives to establish economic relations between El Salvador and the city of Lugano, and share insights and research to facilitate adoption, globally.
What do Bitcoin Embassies mean for Bitcoin?
El Salvador's decision to adopt Bitcoin as legal tender was the first shot fired in a high stakes game to disrupt the legacy financial order. Institutions like the IMF and World Bank, which have until now, enjoyed a monopoly on dispensing multi lateral financing facilities or development projects to nation states, are now being challenged by a decentralised, borderless, global digital currency like Bitcoin, for the first time.
Developing nations who have had to rely on financing from these global financial institutions, have sometimes found themselves to be at the mercy of foreign influences to their domestic economic policy, and have had to meet sometimes very tough conditions in order to receive financing.
President Bukele was one of the first leaders to truly understand the value proposition of Bitcoin and try to adopt it to improve the lives of the average Salvadoran citizen. The results of adoption so far have been nothing short of incredible, although they have been consistently portrayed in a negative light by much of the mainstream media.
Regardless, other nations and jurisdictions have not turned a blind eye to El Salvador's Bitcoin success story, which has resulted in a huge increase in tourism, a massive influx of Bitcoin related industry, and a complete rebranding of the nation's reputation as a dangerous, gang laden, third world country, to the global centre of a new, more equitable freedom-focused financial system based around Bitcoin.
The success witnessed in El Salvador is even more remarkable, as it has taken place throughout the bear market and crypto winter of the past two years. This success has other places looking to adopt Bitcoin, eager to duplicate the El Salvador model in their own states, nations, and legal jurisdictions. El Salvador's Bitcoin Embassies were created to play a pivotal role in exporting this success around the world.
While this state level adoption by Governments is not how early Bitcoiners envisioned global Bitcoin adoption to play out, it has certainly advanced the level of Bitcoin adoption to new heights which nobody thought possible in such a short time. That being said, the question remains, is this good or bad for Bitcoin?
The answer to this question depends on how you view Bitcoin.
For a die hard anarcho capitalist libertarian-minded Bitcoiner who wants to see the dissolution of the state, this may not be a desired outcome.
However, from the point of view of a Salvadoran who may suffer from inequitable access to financial services, Bitcoin offers tantalising solutions.
They now have a way to save, shop and sell online, make and accept digital payments in stores, and can now participate in the wider global economy. Bitcoin businesses are offering high paying job opportunities, and employing Salvadorans. Bukele's firm hand towards crime, while criticised abroad, has earned him the loyalty and devotion of millions of Salvadorans who can now walk the streets at night without living in fear.
Foreigners are no longer afraid of coming to El Salvador to spend their Satoshis and Dollars. They are eating in Salvadoran restaurants, staying in Salvadoran hotels, and drinking in Salvadoran bars. They are moving there in droves, purchasing and renting property, and starting their own businesses and contributing to the local economy.
It's been a much welcome change, which has been described as night and day, and none of it would have happened at all without Bitcoin. So, is it good or bad? You be the judge.