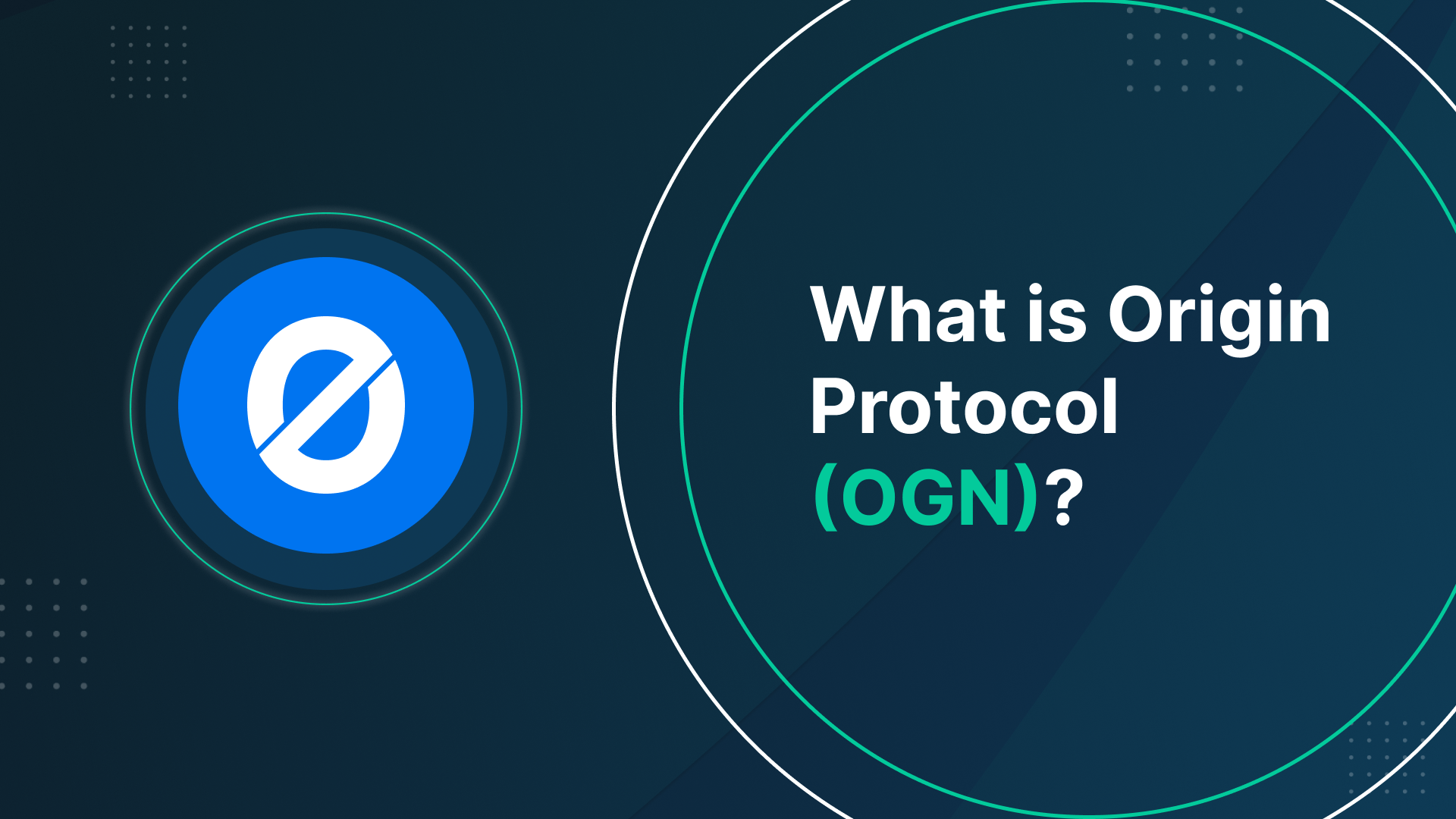 10 Feb

What is Origin Protocol (OGN)?

Founded in 2017, Origin Protocol is a decentralised blockchain project that aims to bring the next 100M users into crypto through blockchain-powered products and protocols. Its two primary products are Origin Dollar (OUSD), a yield-bearing stablecoin, and Origin Story, an NFT platform. The Origin Token (OGN) is the governance and value accrual token for the Origin Story platform. Last summer, Origin airdropped OGV tokens to OGN holders, which acts as the governance token for Origin Dollar. 

Origin Story aims to enable decentralised commerce through NFTs. Origin Story's full featured platform – covering NFT mints, marketplaces, analytics, token-gated access, and more – enables creators to launch and operate NFT businesses without requiring blockchain development knowledge. 

Origin's OUSD stablecoin is a unique decentralised stablecoin implementation which is backed by other stablecoins like USDt, USDC, and Maker DAO's DAI, which allows OUSD holders to gain interest passively from holding OUSD in their wallets. OUSD is catered towards Decentralised Finance (DeFi) platforms and users who seek yield and an escape from crypto's famous volatility by holding value in a stablecoins.
The Origin Protocol Ecosystem
The Origin Protocol ecosystem consists of a variety of products and tools created to onboard users to a Web3. As previously mentioned, Origin's flagship products are Origin Story and Origin Dollar.
Origin Story
Origin Story's full featured platform enables creators and brands to launch and operate NFT collections, communities, and ecosystems. Story's capabilities include:

Drops: launchpad for NFT mints that pioneered safe and secure NFT launches at massive scale
Marketplace: White label NFT marketplace and aggregator
Analytics: detailed analytics of NFT holder communities and collections
Token-gated access and claims: token-gated redemption of NFT perks
Fiat on-ramps: purchase NFTs with credit card or other fiat payment methods
Multi-token support: transact in ETH, USDC, and any ERC-20 token
Multi-chain support: Ethereum, Polygon, with additional chains coming
Allowlists: customizable allowlists for mint and transaction access, including ensuring customers meet KYC/identity verification requirements
Origin Dollar (OUSD) Stablecoin
OUSD is Origin Protocol's flagship stablecoin, which is backed by other stablecoins like USDt, USDC, and DAI. Origin's OUSD grants token holders a yield earned passively simply for holding the tokens in any Ethereum wallet. There's no need to stake or lockup tokens to benefit.
The stablecoin is governed by Origin Dollar Governance (OGV) which is used to decide on future protocol upgrades and weekly collateral allocations. To earn sustainable, risk-averse yield for holders, Origin Dollar's collateral is sent to Aave, Compound, Curve, Convex, and Morpho.
Why is Origin Protocol unique?
Origin Protocol has an experienced Core Team, vibrant community, and strong track record of partnerships in the NFT ecosystem.
Origin's Core Team has experience building and scaling technology products. The Core Team includes early tech and business leaders from iconic companies such as PayPal, YouTube, Coinbase, Pinterest, Lyft, Dropbox, Google, Palo Alto Networks, Tesla, and 1inch. 
The Origin community today has hundreds of thousands of OGN holders, and investors including Pantera Capital, Foundation Capital, Blocktower, Blockchain.com, KBW Ventures, Spartan Capital, and angel investors like Steve Chen (co-founder of YouTube), Alexis Ohanian (co-founder of Reddit), Garry Tan (President & CEO of YCombinator), and Randall Kaplan (founder of Akamai). 
Origin also has a track record in NFTs. Story has powered NFT drops and marketplaces from creators, crypto-native collections, and tech industry leaders. Story partners include:

Celebrities & Creators: 3LAU, BT, Paris Hilton, Trevor Jones, Don Diablo, Timmy Trumpet, Lupe Fiasco
Web3 NFT collections: Pudgy Penguins, Chubbiverse, Moonrunners, OnChainMonkey, Sappy Seals, Lucky Ducky, among others
Industry-leading companies: Roofstock (real estate platform), SpaceX (first all-civilian mission to orbit)

Origin Story has powered experiences that have set historic milestones, including: the NFT auction from 3LAU ($11.7M USD), a major whiskey cask sale ($2.3M), viral video NFT sale ($760K), and real-world homes sold as NFTs on a peer-to-peer marketplace in partnership with Roofstock.
What is the Origin (OGN) Token?
The Origin Token (OGN) is the native token value accrual and governance token for the Origin Story platform. It's an ERC-20 token which can be used for staking and participating in governance. Origin Story platform revenues are passed on to OGN holders that stake their tokens. OGN stakers can participate in the upside in a permissionless way via the DApp and staking contracts. Currently, ETH fees and OGN bonus rewards can be earned in the staking program. 
Aside from OGN, Origin Protocol has two additional tokens, OUSD, the decentralised yield-bearing stablecoin, and OGV, the Origin Dollar Governance token. OGV lets users earn rewards for staking, earn transaction fees from OUSD, and participate in governance when staked for a month or more by earning veOGV. Additionally, Origin Protocol plans periodic buybacks of OGV tokens to limit supply and increase demand.
OGN Tokenomics
Origin Protocol Team
Origin was founded by entrepreneurs Josh Fraser and Matthew Liu. Josh entered the crypto space in 2011, while Matthew joined shortly thereafter and participated in the Ethereum crowdsale. Yu Pan, a former co-founder of Paypal, is the technical founder behind Origin Dollar (OUSD). Origin's team hails from big tech companies including early employees of YouTube, Instagram, Coinbase, Tesla, Lyft, 1inch, and Dropbox. More detailed information regarding the Origin Protocol team can be found here.
How to buy Origin (OGN) on Bitfinex
How to buy OGN with crypto
1. Log in to your Bitfinex account or sign up to create one.
2. Go to the Deposit page.
3. In the Cryptocurrencies section, choose the crypto you plan to buy OGN with and generate a deposit address on the Exchange wallet.
4. Send the crypto to the generated deposit address.
5. Once the funds arrive in your wallet, you can trade them for OGN. Learn how to trade on Bitfinex here.
How to buy OGN with fiat
1. Log in to your Bitfinex account or sign up to create one.
2. You need to get full verification to be able to deposit fiat to your Bitfinex account. Learn about different verification levels here.
3. On the Deposit page, under the Bank Wire menu, choose the fiat currency of your deposit. There's a minimum amount for fiat deposits on Bitfinex; learn more here.
4. Check your Bitfinex registered email for the wire details.
5. Send the funds.
6. Once the funds arrive in your wallet, you can use them to buy OGN.
Origin Protocol Community Channels
Website | Twitter |Discord | Youtube | Telegram | Reddit | Github | Medium | LinkedIn