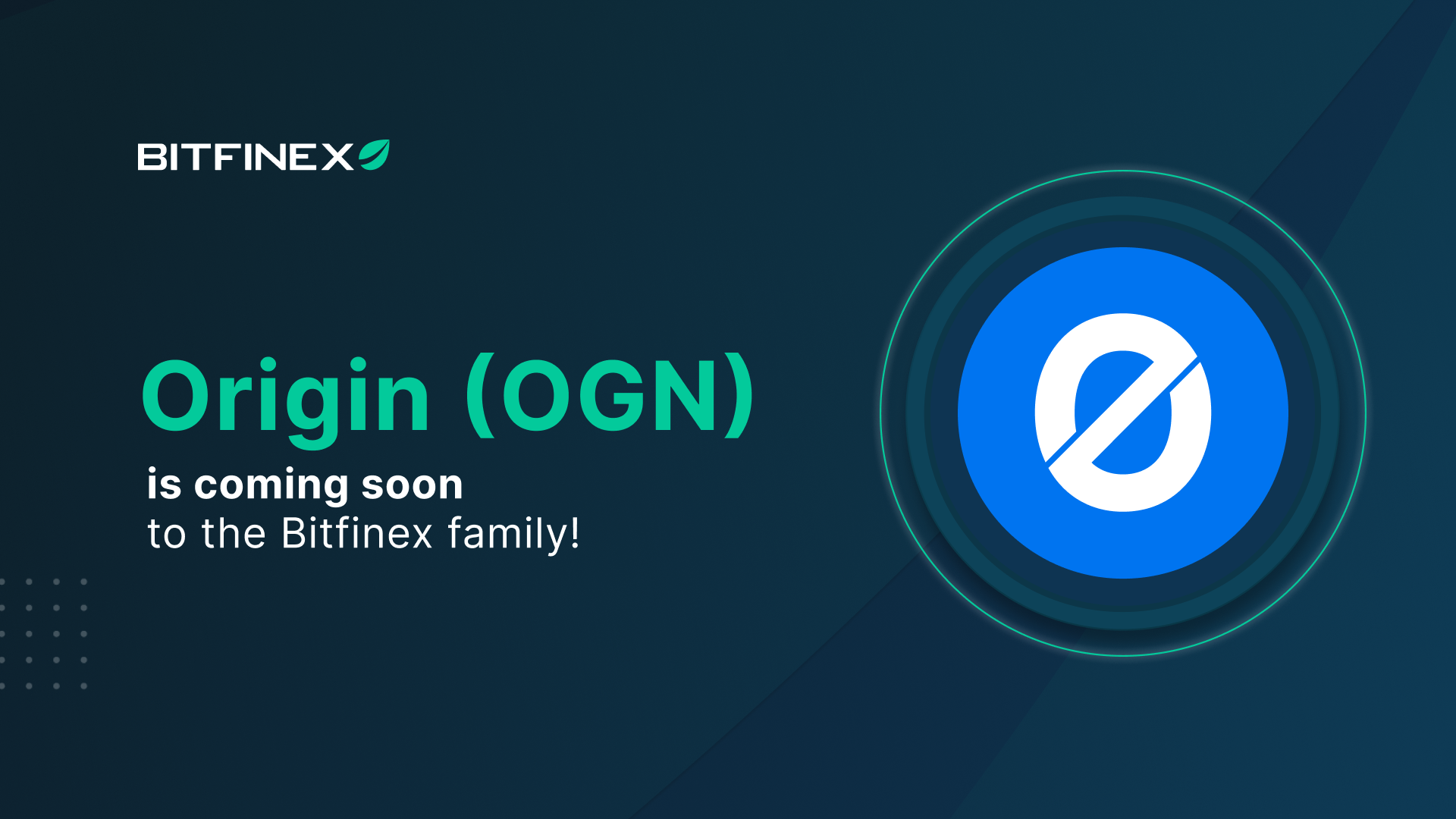 09 Feb

Bitfinex to List Origin Protocol Native Token OGN

[Press release]

ROAD TOWN, British Virgin Islands – February 9, 2023 – Bitfinex (www.bitfinex.com/), a state-of-the-art digital token trading platform, announced today that it will be listing OGN, the native token of Origin Protocol, an Ethereum-powered platform that specializes in NFTs and DeFi.

Launched in 2017, Origin Protocol initially began as a decentralized e-commerce platform. It went on to refocus the platform on NFTs, releasing its NFT platform Origin Story which aims to give creators greater control over the branding, pricing models, content, and products on their NFT marketplaces. Origin Story has hosted many NFT releases, including Paris Hilton's NFT autobiographical collection. It has also expanded its NFT offerings to support real-world assets (RWAs), including powering real estate sales on-chain in conjunction with Roofstock.

"We are delighted to welcome OGN to Bitfinex," said Henry Child, Head of Tokens at Bitfinex. "Origin Protocol is one of the most active names in the NFT market, and I am sure the types of projects they host will be of great interest to Bitfinex users."

"At Origin, we're always excited to enter new markets as we aim to bring crypto-enabled products to the masses. Bitfinex is one of the earliest and most renowned exchanges, and notable for being one of the early Bitcoin investors and traders. We're thrilled to have OGN listed on the platform," added Matthew Liu, co-founder of Origin Protocol.

OGN is the value accrual and governance token for Origin Protocol's NFT ecosystem. Its market cap is approximately $70 million and its total supply is 1 billion.

Bitfinex plans to open deposits for OGN at approximately 2.00 pm UTC on 10/02/23, with trading commencing at approximately 2.00pm UTC on 13/02/23 against the US Dollar (USD) and Tether tokens (USDt).

To obtain access to OGN on Bitfinex, customers can visit https://www.bitfinex.com/.

*All users of www.bitfinex.com are subject to Bitfinex's terms of service ("TOS"). Please note that U.S. persons (as defined in the TOS), among other prohibited persons (as defined in the TOS), are strictly prohibited from directly or indirectly holding, owning or operating an Account (as defined in the TOS) on www.bitfinex.com. All dates for deposit opening and trading are subject to change.
#
About Bitfinex
Founded in 2012, Bitfinex is a digital token trading platform offering state-of-the-art services for traders and global liquidity providers. In addition to a suite of advanced trading features and charting tools, Bitfinex provides access to peer-to-peer financing, an OTC market and margin trading for a wide selection of digital tokens. Bitfinex's strategy focuses on providing unparalleled support, tools, and innovation for experienced traders and liquidity providers around the world. Visit www.bitfinex.com to learn more.
Contact: [email protected]