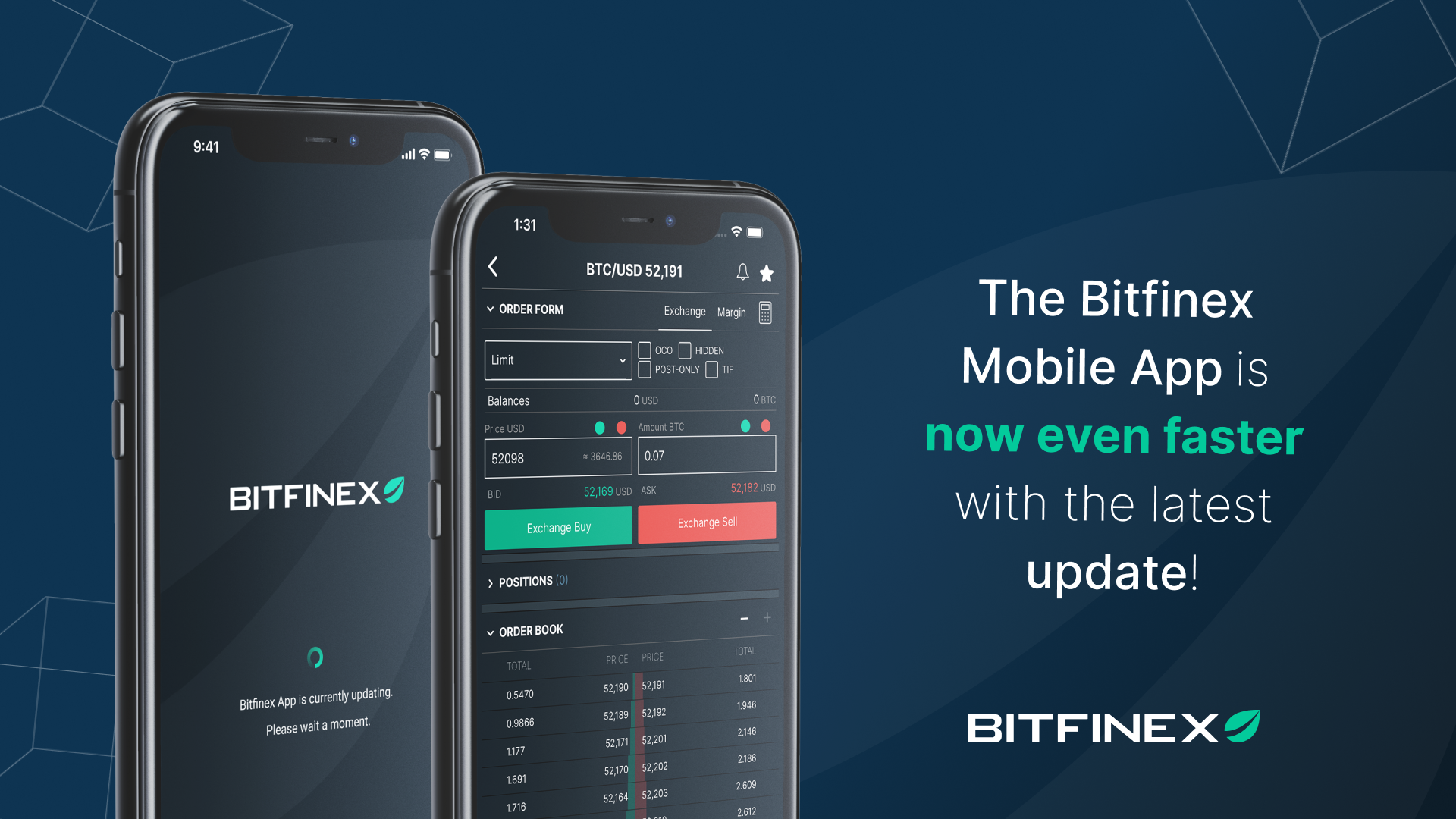 21 Apr

Mobile App Change Log 4.2.0

Recent updates and optimizations to the Bitfinex mobile app


We're pleased to present Version 4.2.0 of the Bitfinex mobile app.


The latest update to the Bitfinex mobile app includes an update of the Balances detail page to a slide-in modal.


Download the latest version of the Bitfinex mobile app below:


You can also download the Android Application Package (APK).
---
Features
Balances detail page is now a slide-in modal
Addition of Full History link in Trades panel
Addition of help to auto-renew panel
Improvements
Updated mobile chart's theme color
Sub-account information listed in the Account page of the Account tab
In the Account tab, Permissions page has been moved into the Account page
Raise error notification is shown when connection fails while placing or cancelling an order or offer
Addition of icons for Bridge Mutual Token (BMI), Boson Protocol (BOSON), MobileCoin (MOB), Near Protocol (NEAR), SUKU Token (SUKU), and Terra (LUNA)
Improved memory usage and performance
Reduced update package size
Replaced emoji keyboard with mobile build-in emoji keyboard in Bitfinex Pulse
Addition of touch feedback for modal close buttons
Localized order history's status language translation
Updated icon for Appearance in the Account tab
Updated login failed message
Updated translations for Russian as well as traditional and simplified Chinese
Bug Fix
Fixed 3 column Wallets display for iPhone X
Fixed issue of US person modal not displaying occasionally
Order type select screen now scrolls smoothly
Fixed broken UI for Reports panel with large amounts
Total value footer is now hidden in Reports panel
Full history is now hidden in Funding panel
Style of margin buttons now mirrors that of the web version
Users are now returned to the previous page upon failed login
Enabled currency settings persistence for the Total Value in the Balances panel
White background used for the Support Center page
Taken (Unused) panel will not show in the Funding tab when switched off in the Appearance settings
---
The above changes have been suggested to us by our active user base.

Feedback from our customers is incredibly valuable to us. Please share your user experience and help us to continuously optimize the Bitfinex mobile app.

To share your feedback, complete the Bitfinex mobile user app survey or join the Bitfinex Telegram channel.