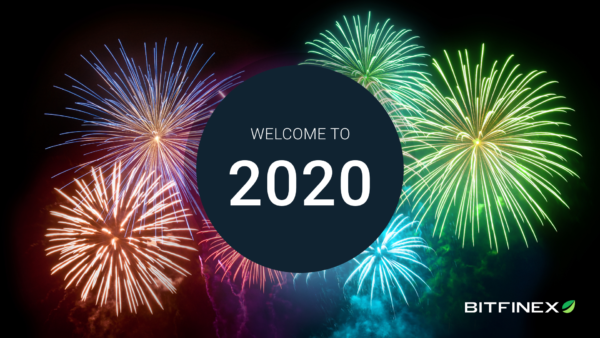 31 Dec

Bitfinex 2019: A year in review

2019 has been a great and productive year for the Bitfinex team. We've been working hard to provide our users with the best trading experience, while at the same time, playing our role as one of the major exchanges and pioneers in the crypto industry. 

As the year comes to an end, it's the perfect time to review what we've accomplished so far and reflect on how we can do better to contribute to the broader crypto community.

Here are the highlights of some of our accomplishments throughout the year:
January
Migration onto dedicated servers
Bitfinex migrates from AWS-Cloud to dedicated bare-metal servers for improved speed, performance, and security. 
February
New Bitfinex mobile app launch
After having the mobile app in beta for a while, the new fully-functioning Bitfinex mobile app is finally launched; well equipped for a seamless trading experience on the go.
March
The high-performance, on-chain trading platform built on the EOSIO, eosfinex Beta version is launched, giving users the opportunities to explore, leave feedback, and earn rewards.
April
Santiment integration announced
The Santiment integration has made various market insights available on the Bitfinex platform. From general project info, such as market cap to premium metrics, such as MVRV (Market Value – Realized Value), Santiment's proprietary historical and real-time indicators will undoubtedly complement your insights and bring your trading strategy to the next level.
May
Liquid Network integration announced
The integration with the Liquid Network, a sidechain-based settlement network, enables faster and more confidential Bitcoin transactions on Bitfinex. 
UNUS SED LEO token launch
The UNUS SED LEO token is launched in a private sale to selected qualified purchasers.  
June
Reporting Framework update
An update to the reporting framework that helps both beginner and expert users in navigating the crypto trading space.
UNUS SED LEO Transparency Initiative presented
Bitfinex presents the UNUS SED LEO Transparency Initiative, which is built around a real-time token burn redemption mechanism. Along with it, the LEO Transparency Dashboard that provides real-time insights into all collected platform fees, and subsequent LEO burns is also launched. 
July
Bitfinex Liquidation Feed introduced 
To improve transparency surrounding leveraged positions on Bitfinex, we present the liquidation feed that provides precise and timely liquidation updates in an easy-to-navigate feed.
August
Intermediate verification level enabled
We listened to our customers, with intermediate verification level, unverified users can upgrade their accounts and obtain access to certain products and services available to verified account holders without having to provide bank account details.
The Public Leaderboard introduced
Bitfinex provides our users with a chance to shine on the Public Leaderboard. Top traders will be able to see their names and see where they stand against the competition.
September
Derivatives trading launch
iFinex Financial Technologies Limited launches a new derivatives trading platform as an effort to provide comprehensive trading services, including futures and perpetual swaps, to our users and the broader crypto community.
Bitfinex Token Sales introduced
As part of our efforts to support innovation in the crypto space, Bitfinex launches the Bitfinex Token Sales platform that aims to create the best conditions for the long term, sustainable growth of the tokens offered in the sale.
October
The Bitfinex Affiliate Program launch
We take our role as a pioneer in the crypto industry very seriously. With the Bitfinex Affiliate Program, we aim to revolutionize how the crypto community works by incentivizing each affiliate for the efforts they put in spreading the word about crypto. 
The Social Connection feature added on the Public Leaderboard
The Public Leaderboard is no longer a place solely to showcase traders' performance. With the Social Connection feature, all traders can take advantage of the Public Leaderboard. Top traders can grow their Twitter followings, while the others can find whom to follow on Twitter to learn from.
November
Bech32 addresses support announced
Bitfinex supports the broader use of Bitcoin by adopting SegWit on our platform. The support allows withdrawals, deposits and generation of Bech32 addresses.
New full tax report feature added
Professional traders can generate tax reports without hassle on Bitfinex with the full tax report feature.
New reward schemes introduced
We want all our users to get the most benefit from our platform. In that spirit, Bitfinex introduces two reward schemes to our users. Affiliates who like or share Bitfinex's social media posts will get additional commission multipliers with the Social Interaction reward. Meanwhile, for the developers who build trading libraries and platforms, we offer an exclusive reward for every trade made via Bitfinex's APIs with the Developers Reward.
Honey Framework UI v3 launch
Bitfinex brings the Honey Framework integration to the next level with the launch of the UI v3. The new version allows users to create custom order types or event-driven automated trading strategies easily. 
December
The Lightning Network integration announced
With the Lightning Network integration, users will be able to deposit and withdraw Bitcoin instantly without having to worry about the fees.  
Bitrefill integration announced
Living on crypto is no longer a wishful thinking. Bitfinex users can easily purchase digital gift cards directly from their account thanks to the Bitrefill integration. 
New payment options added
Your favourite cryptos are now just a debit or credit card away on Bitfinex. 
Colour blindness-friendly theme introduced
As part of our ongoing commitment to furthering crypto adoption, Bitfinex developed a colour-blind theme. The new theme has been specifically designed to improve the user experience of customers that present difficulty in distinguishing between red and green elements.
Happy new year from all of us at Bitfinex! Here's to a new year full of excitement and achievement. 🥂